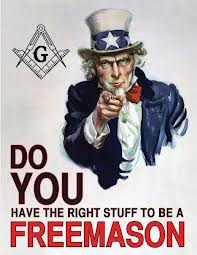 Is There Greatness In You?
Becoming a member of the Craft is a decision one should not make lightly. There are three qualifications that must be met: First, you must have a belief in a Supreme Being and the immortality of the soul. Second, you must be 21 years of age. Last, you must be of good character.


Many great men in American history have been Freemasons, in fact our very country was founded on Masonic principles of freedom, tolerance, and justice. Such men as George Washington, Ben Franklin, and Patrick Henry are just a few of the most important people who founded The United States of America based on these principles. They risked their lives, fortunes, and sacred honor to help ensure a better life for the people of this country, as did many other great patriots. To see if there is greatness in you use the contact form
below or call and leave a message at the Lodge.










---